Do you ever just walk into Target and buy shit you never end up actually using? At my most desperate point, I even paid for a Skillshare course to become a GIF maker. I never made the time to take it.

I loved the idea of knowing how to make GIFS but not the hours of labor as a beginner. The truth was, I wanted a fast and easy app to make GIFs.

I discovered Wibbl – a new GIF maker app – after meeting Nat Welfare, the co-founder, on social media. In this last month, I've been playing with the app to make my own floating profile pictures, swipe up GIFs for Instagram stories, or even a link in bio GIF. I'm even using Wibble along with Canva's content creation templates to make animated graphics for myself and for my client, VEED.

Today, I'm teaching you how I made simple GIFS like the ones below on Wibbl.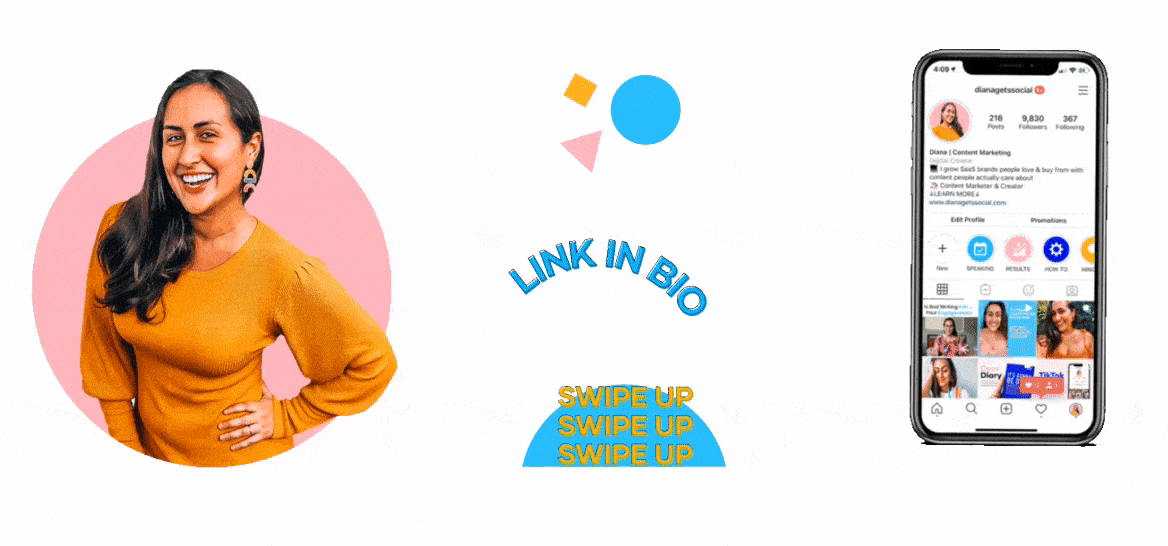 How to Make a GIF with Wibble GIF Maker App

1. Download Wibble on the Apple App store


2. Import Your Brand's HEX Color Codes

Set custom colors to easily change the look of shapes and text when making a GIF on Wibbl. Follow the steps below to do this.
Click on the purple gear icon on the upper left-hand side (see first image below)
Click the + symbol next to where it says 'My Colors'
Type in your HEX color code
3. Play With the Image, Text, and Sticker Buttons
The possibilities of GIFS you can create with these three simple options are endless. I'll keep it simple to show you how I made a floating profile picture.

Find a picture of yourself to remove the background from A solid background works best with Wibbl's background remover tool. If not, use remove.bg or Canva Pro's background remover tool to clean up a picture with a busier background
Pick and customize a shape in stickers I went with a simple circle so it would be an animated version of my profile picture. Pick any shape you want and customize the colors using the droplet button on the lower left-hand side of the app.
Apply an effect There's a huge library of effects to choose from. Just click on one to immediately apply it to the items in your GIF maker workspace.

You might find yourself needing to layer some elements. For example, maybe you import your profile picture and then it's hidden behind the circle. All you have to do to order elements is click the element you want to modify and the overlapping squares on the lower right-hand side. This will then prompt a screen to arrange the order with a simple up or down arrow.  
Ways I Can Use My Animated GIF Profile Picture
Copy/Paste the animated GIF into Instagram stories (see how to in the TikTok above) or load your GIF to Giphy
Fun call-to-action end slide on Instagram carousel posts
Overlay onto an intro or end slide for video on IGTV, YouTube or LinkedIn video

Combine Other Content Creation Apps with Wibbl
As Wibbl continues to grow, you might not need to use some of these apps to create the desired effects. But in the meantime, here are some fun apps I played with in combination with Wibbl.

Over App for Custom Fonts and Mockups

I used Over App to upload custom fonts. I created cool text effects on a transparent background. I also used it to make a phone mockup with my Instagram account. I just looked up iPhones with transparent screens and found a couple options. I took a screenshot of my Instagram and then placed it behind the phone mockup on Over. Then I downloaded my end result and upload it to Wibbl to customize it with animations and backdrops.

Canva Animated Templates

Upload your Wibbl GIFS to Canva. You can then easily drag and drop them into your creations whether you're making an intro slide for YouTube or animated carousel slide for Instagram. It's an amazing way to add a subtle and fun human touch to your content. Save them as a video if you're posting them as a carousel for Instagram or as a single animated graphic for LinkedIn.

If you're like me and love cool-looking graphics but can't justify the time investment to make things from scratch with fancy software then you might just love this app. I can convert an idea and make it into a GIF now in less than 2 minutes on my iPhone! It's a brand new app so I'm excited to see how they continue to develop it. You can download it here on the Apple app store.